Winter + Sport + Nature = Livigno!
Looking for somewhere offering a total winter experience, with nature and sport? Whether you are a sporting pro or a simple sports lover, Livigno is definitely the place for you! With its uncontaminated nature and modern facilities, Livigno is ready to welcome you with assistance and support for your training in dozens of different activities and disciplines.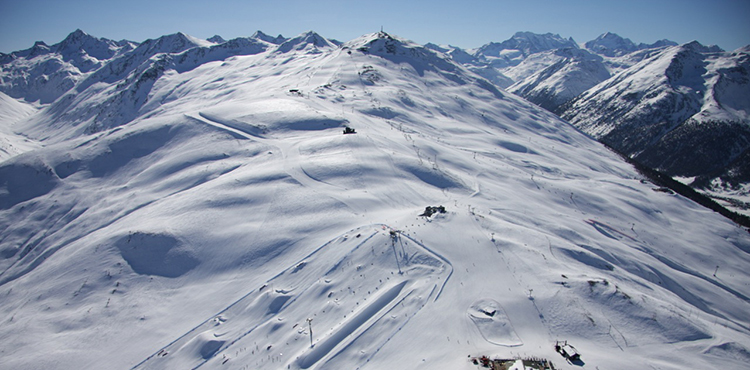 Spend your holiday in Livigno valley, 1816 metres above sea level and test your skills with Alpine, Nordic, freestyle and telemark skiing, snowboarding and freeboarding, ski mountaineering, heli-skiing, fat biking, snow shoes and lots more. In Livigno you are spoilt for choice in terms of winter sports, making it impossible to do nothing because it is the biggest open-air Alpine gym.

Livigno is home to skiers

Are you a keen skier? You are spoilt for choice in Livigno from October to early May, with Alpine, Nordic, telemark and freestyle skiing. If downhill slopes are your daily thrill, you can choose from 115 kilometres of pistes with varying levels from 1800 to 2900 metres a.s.l., 12 black slopes, 37 red and 29 blue ones, all with cutting-edge lifts that include 6 cablecars, 13 chairlifts and 11 skilifts on two sides of the mountain.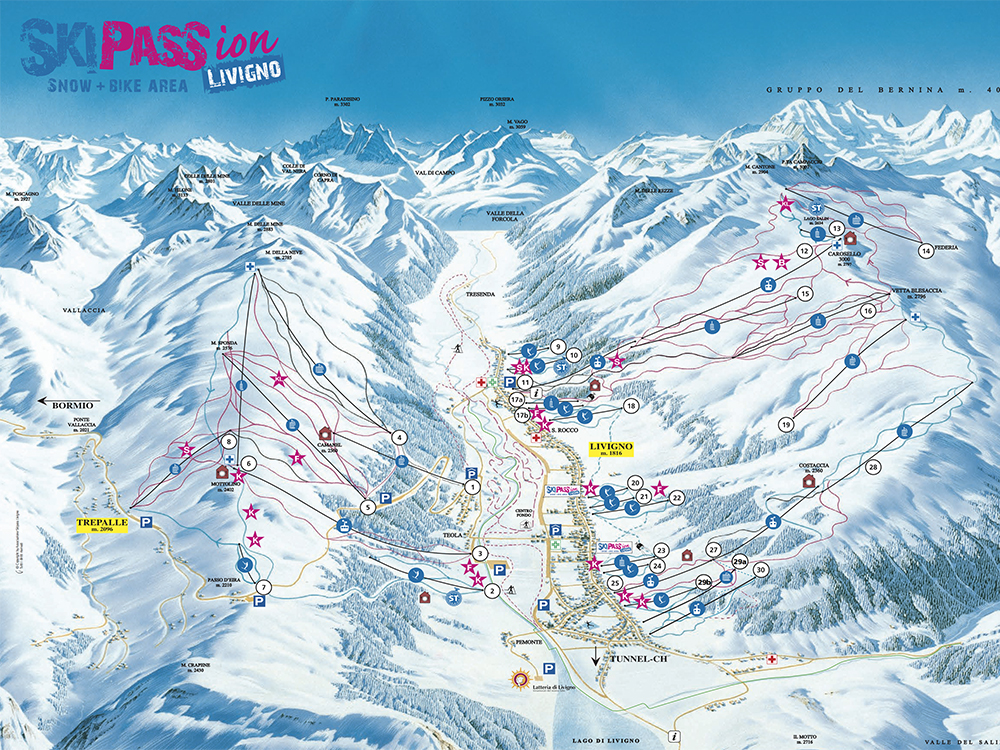 If, on the other hand, narrow cross-country skis are your passion, Livigno is your dream resort, with 30 kilometres of pistes, free for all as soon as the first snowfalls. Plus, regardless of the snow conditions, a good 5 kilometres of the competition track "Marianna Longa – designed by Fausto Bormetti", are always available from the end of October thanks to scheduled artificial snowfall. You can also try out your biathlon prowess in Livigno: cross-country skiing and target shooting with rifles. Have a go!

La Sgambeda, the international granfondo competition

The traditional "La Sgambeda" takes place every December on the cross-country circular track, and this year, the 27th edition marks entrance by this international competition in the Visma Ski Classics circuit, which every year attracts thousands of fans of Nordic granfondo races. Spectacular for number of participants and its setting, every year this race sees pro skiers and simple amateurs and keen fans racing side by side, ready to compete over the 35 kilometres of the classic route.

Check out the complete programme and the routes for "La Sgambeda" here www.lasgambeda.it

"The activity holiday that gratifies your desire for powder"

Looking for adrenaline in the sport you love? Come and freeride in Livigno! Surrounded by uncontaminated nature on the huge snowy slopes around Livigno and blaze your own winding trails down through dips and gulleys. Be enchanted by nature and surf the powder in Livigno, that dust that covers the snow and shoots skywards with your every curve. Always remember to stay safe while freeriding!

Set your own pace with a pair of snowshoes on your feet!

Want to try something new this winter? Try snowshoes, the increasingly popular snow rackets you wear on your feet that stop you from sinking into fresh snow, called "drezola" in Livigno dialect and used by mountain folk to get about in the winter. The pleasure of walking, hiking and meditating, lets you lose your sense of time, taking you back to a slower way of life in the uncontaminated nature of Livigno.

Come to Livigno and discover a new pace of life!