How to get to Valtellina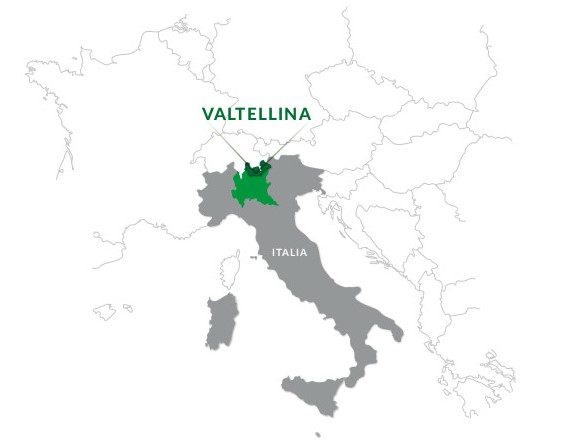 WHERE IS VALTELLINA?
Valtellina is a valley 120 kms long and 65 kms wide situated in northern Lombardy, on the border between Italy and the Swiss canton of Grisons. It is the only major Alpine river valley to run from east to west.
The region comprises two main valleys: the valley of the Adda river, which springs in the Bormio area, crosses Upper and Lower Valtellina, and flows into Lake Como; and the Liro and Mera river valleys, which traverse Valchiavenna and run from Passo della Spluga and Val Bregaglia to Lake Mezzola.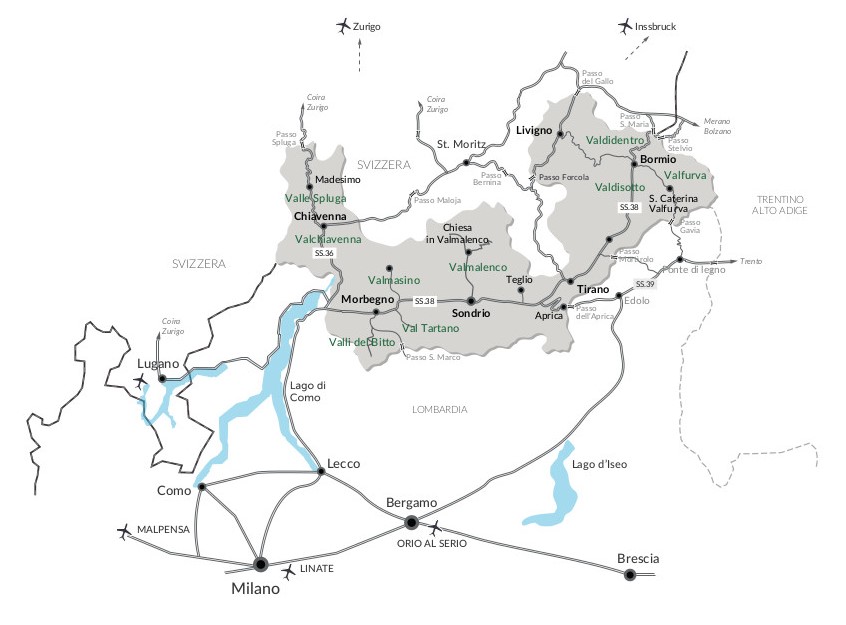 CAMPING AND MOTORHOME CAMPSITES
GETTING THERE BY TRAIN
Milano - Tirano line
Main stops: Milano (Central station) - Lecco - Colico - Morbegno - Sondrio - Tresenda - Tirano
Distance: 156 km (2:30 min). Change in Colico to reach Valchiavenna
Info: www.trenord.it

Colico - Chiavenna line
Distance: 35 km (30 min)
Info: www.trenord.it

Bernina Express line
Main stops: Coira - St. Moritz - Poschiavo - Tirano
Info: www.rhb.ch

GETTING THERE BY AIRPLANE
The closest airports are Milano Linate, Milano Malpensa and Bergamo Orio al Serio.
Other international airports within a reasonable distance include Zurich (Switzerland) and Innsbruck (Austria).

GETTING THERE BY CAR
From the south
From Milan, take the SS36 Spluga highway (in green on the map below), up to Colico and Chiavenna. Just past Colico is the entrance to the SS38 Stelvio highway (in red on the map below), which runs through the main townships in Valtellina and up to Bormio and the Passo dello Stelvio.

From the north
Livigno and Upper Valtellina are accessible from Zernez (Lower Engadina) via Passo del Gallo (Munt La Schera tunnel). From St Moritz, Valtellina can be accessed via Passo del Bernina and Tirano. Valtellina can also be accessed from Valcamonica (on the Bergamo side of the Bergamo Alps) via Passo dell'Aprica and from Engadina (Switzerland) via Passo del Maloja and Valchiavenna. Other passes, such as the Gavia pass from Brescia or Trento and the Passo dello Stelvio from Alto Adige, are only open during the summer.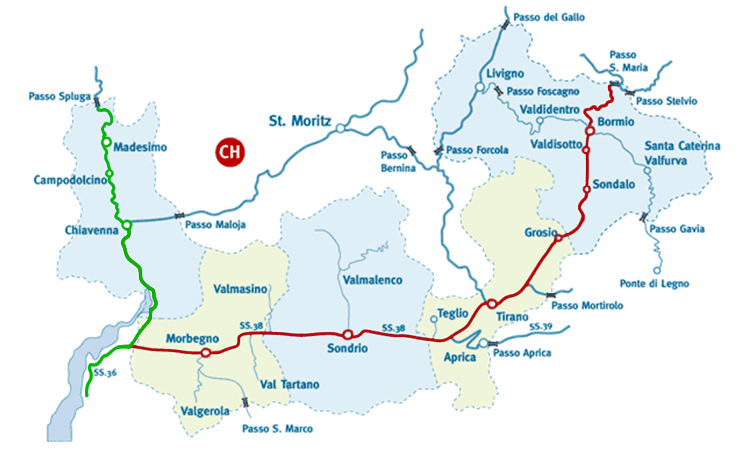 Mountain passes open all year round
Aprica pass (1176 m)
Foscagno pass (2291 m)
Valico del Gallo (1693 m)
Maloja pass (1815 m)
Bernina pass (2315 m)
Mountain passes open in Summer
Spluga pass (2115 mt )
San Marco pass (1992 m)
Mortirolo pass (1852 m)
Gavia pass (2621 m)
Stelvio pass (2758 m)
Santa Maria - Umbrail pass (2502 m)
Forcola pass (2315 m)
GETTING TO THE TOWNSHIPS
Livigno and Upper Valtellina
Livigno is accessible from Bormio via Passo del Foscagno and from Tirano via Passo della Forcola (closed in winter). From the Swiss canton of Engadina to the north, Livigno is accessible via Passo del Gallo (Munt La Schera tunnel). Valdidentro, Valdisotto and Valfurva can be accessed via offshoots of the SS38 highway from Bormio.
Valmalenco
Follow the SS38 highway to Sondrio and then take the strada provinciale (SP road) to Valmalenco.olta giunti a Sondrio attraverso la SS38 è possibile imboccare lastrada che conduce in Valmalenco.
Aprica
Aprica can be accessed from Brescia via Valcamonica and Passo dell'Aprica, or from Milan via the SS38 highway to Tresenda and Passo dell'Aprica.
Madesimo
Madesimo is accessible from Milan via Valchiavenna and the SS36 highway, or from Como via the SS340 Regina highway. From Switzerland, take Passo Spluga (closed in winter) or Passo del Maloja and the SS37 highway.
Valmasino
From Morbegno, take the SS38 to Ardenno and then the road to Valmasino.