The Valtellina experience means savouring its typical products, above all its DOCG wines made from nebbiolo grapes (Sforzato, Valtellina Superiore, Sassella, Grumello, Inferno, Valgella and Maroggia). Accompany your wine from Valtellina with other specialities: Bitto DOP and Valtellina Casera DOP, cheese from the mountain pastures, Valtellina Bresaola (cured beef) and PGI apples, buckwheat pizzoccheri pasta and honey
Bresaola
Light, appetising and genuine: Bresaola is a winner with everyone. This cured beef is one of the products that symbolises Valtellina and is preserved by salting and drying. The unrepeatable climate of the valley with its cool, clear air that blows down from the Alps is the main secrete that makes Valtellina Bresaola a unique, inimitable product, guaranteed by PGI marking (Protected Geographical Indication). It is low in fat and rich in protein, ready to eat as it is or to use in imaginative recipes and refined dishes.

Info: www.bresaoladellavaltellina.it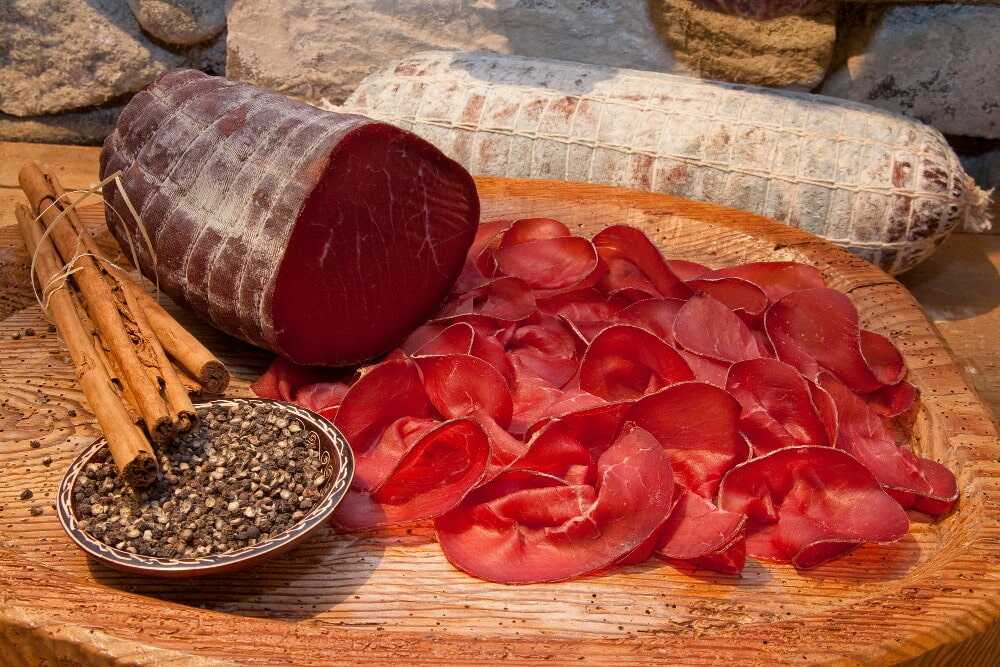 Apples
Enjoy the unique taste of Valtellina apples, protected by PGI marking (Protected Geographic Indication), from Golden Delicious, with their intense yellow peel, to Red Delicious or the Gala, Morgenduft, Fuji and Granny Smith varieties. Valtellina is the ideal environment for growing this tasty natural fruit with its irresistible crisp, sugary, juicy flavour. The apples grown here stand out for their lack of russeting, for their better colour, more harmonious, pleasant flavour and their intense aroma - a real must-have on your table! If you fancy a relaxing walk or cycle ride, do not miss a trip following one of the many paths through the apple orchards, from spring to autumn they are a unique sight.

Info: www.melavi.it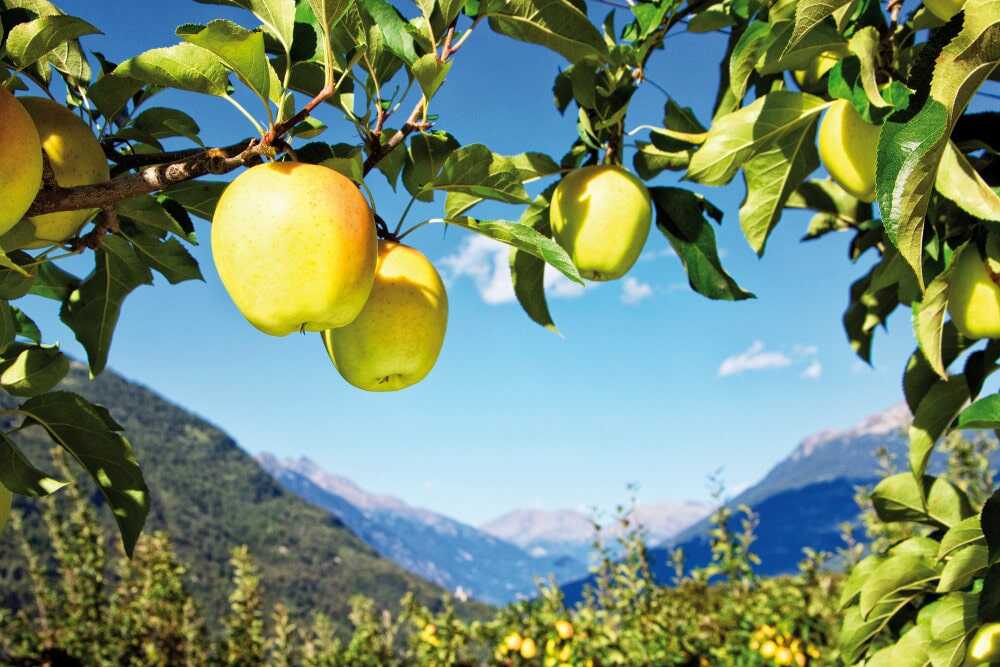 Cheese
Let yourselves be captured by the unmissable flavour of Valtellina cheeses: from the high mountain pastures, where the animals graze freely, come unique products like Bitto, Casera and Scimudin, all with PDO marking. Discover the aroma of herbs from the high mountains with Bitto PDO, mild if eaten in the same year it is produced, sharper as it matures. In the valley bottom, taste Valtellina Casera PDO, a semi-fat cheese that gets its name from the place it is made and matured, the "casera", it is perfect with pizzocheri, the main traditional dish locally, or for making sciatt, round buckwheat fritters and taragna polenta. Finally, add a third to your cheese experience with Scimudin, a Coldiretti farmers' association "Flag of Taste" in 2014. With its delicate, fresh milk taste, it is the most classic of "homemade" cheeses. Also try other historic products such as Latteria and Ricotta.

Info: www.ctcb.it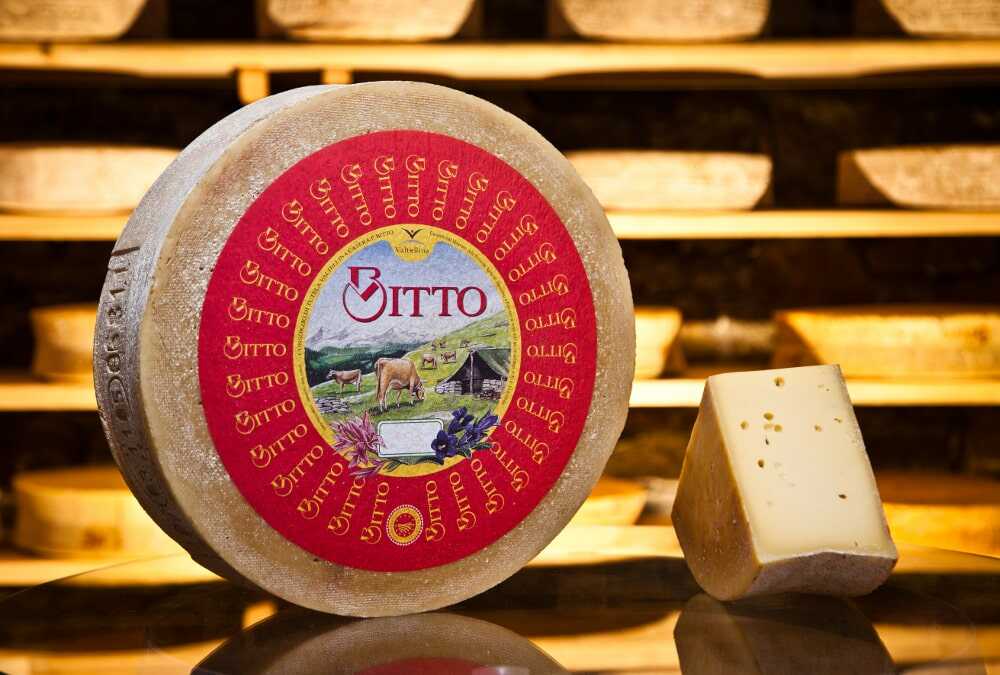 DOC and DOCG wines
Check out the history and taste of wines in Valtellina, which has been a land of vies and wines since Roman times. Take a trip through the valley and you will be surprised by the extraordinary terracing system with its myriad of low dry-stone walls that make it possible to grow the fines in even the steepest, sunniest areas of the Rhaetic Alps. Call in at the producers' wineries and ask to taste the fruit of their labours: Valtellina wines – protected by DOC controlled appellation of origin marking and DOCG (guaranteed and controlled appellation of origin) – are made with nebbiolo grapes and have great personality. Two DOCG wines to be tried absolutely are Sforzato, a dry red made from dried grapes and Valtellina Superiore, made with grapes from the area between Berbenno di Valtellina and Tirano, divided into the five sub-appellations Maroggia, Sassella, Grumello, Inferno and Valgella. Let yourselves be guided through the world of vines and wines by the great film director Ermanno Olmi who has dedicated a docu-film entitled "Rupi del Vino" to Valtellina wine.

Info: www.consorziovinivaltellina.com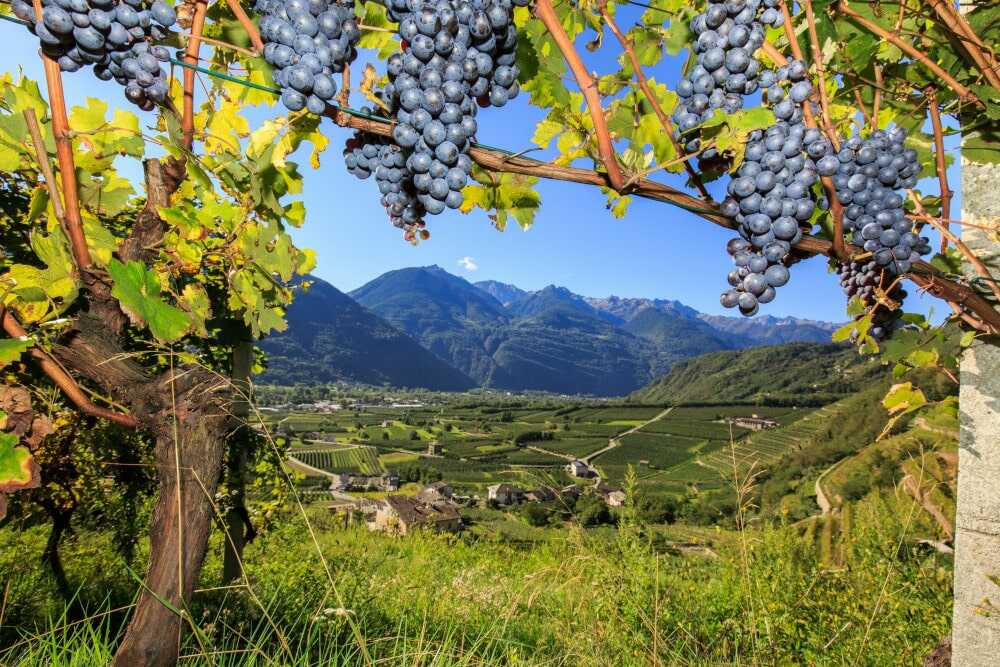 Pizzoccheri
If you love Valtellina, you just have to love the goodness of pizzoccheri, the product symbolising local cuisine that has received a Coldiretti farmers' association "Flag of Taste". The recipe for pizzoccheri is handed down from generation to generation. Taste it in Teglio, the ancient village where this pasta dish was created, or stop to eat in the restaurants, osterias and trattorias throughout Valtellina where it is still made by hand, as tradition dictates. The ingredients? Dark buckwheat flour and white flour. The pasta it makes is dark, cut into strips that are then cooked with savoy cabbage and potatoes and, to finish, generously flavoured with Alps butter and local cheese. In the original recipe, a twist of freshly ground pepper is added as a final touch. Pizzoccheri is popular and "copied" everywhere, leading to the creation in Valtellina of the Academy of the Pizzocchero (link) which safeguards the originality of the dish, promoting study and analysis.

Info: www.accademiadelpizzocchero.it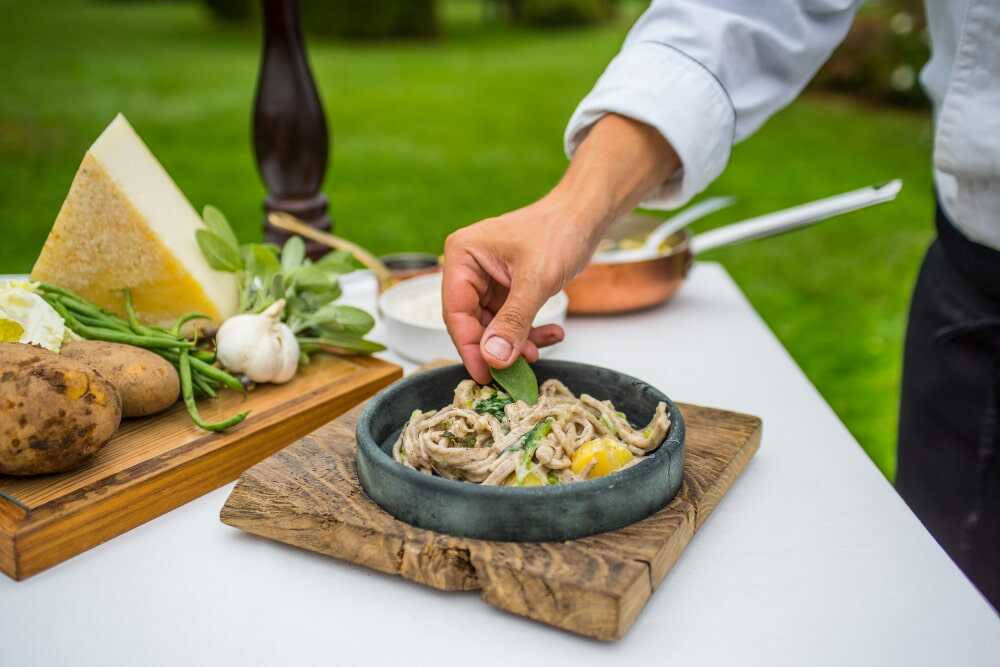 OTHER VALTELLINA DELICACIES
Valtellina's food and wine offerings go far beyond its PDO and PGI products. The local honey comes in an astounding number of varieties, such as rhododendron, chestnut, linden, Alpine multiflora and acacia – one to suit everyone's taste! There are around 350 apiculturists with a total of 6,000 hives in the province of Sondrio, generating an annual average production of approx. 78 tonnes.

Another local delicacy is rye bread. There is evidence that rye was present in Valtellina as early as the Copper or Bronze Ages and it has been cultivated in the region for many centuries thanks to its resistance to the cold, temperature extremes and arid soil.

Pesteda is an aromatic condiment originating in Grosio. Bisciola, is a well-known Valtellina fruitcake that in 2013 obtained a collective mark with a geographical designation, and many more products have done so, including Valtellina milk; Scimudin, a semi-hard cheese with a delicate, fresh, milky flavour; prosciutto fiocco and Valtellina porcino mushrooms.

The province of Sondrio boasts several specialities, including violino di capra, which is goat prosciutto cured on the bone. It appears dry but is meltingly soft in the mouth. This delicious cured meat is aged in traditional grottoes called Crotti.

Lastly, any list of Valtellina's gastronomic delights would not be complete without mentioning the excellent artisanal beers that are now being produced around the valley.

The local rye bread
The Violino di Capra