Valtellina is the ideal place for family holidays with specific services and activities for children!
For those who are looking for a family holiday in the Alps, Valtellina is the perfect place with many possibilities for children, both in summer and in winter.
FAMILY HOLIDAY - OUTDOOR ACTIVITIES
PARKS AND NATURAL RESERVES
More than half of the territory of the Valtellina accommodates parks and reserves: it means that during your holiday in the mountains you will enjoy amazing landscapes and beautiful hiking excursions with your children.

ANIMAL-FOCUSED ACTIVITIES FOR CHILDREN
From the Observatory of the Alpine Eco-Fauna of Aprica where you can see many animals, such as deer, ibexes but also diurnal and night birds to the guided vist to the malga where discovering the genuine and typical products; from the escursions with alpacas to the educational farms: ckeck out the main animal-focused activities for children

CYCLING ROUTES FOR FAMILIES
Valtellina is the perfect location for family cycling holidays with many cycle routes for beginners and families with children. Do not miss the Sentiero Valtellina, 114 kilometers long, mostly flat or with slight slopes and ideal to discover Valtellina following the Adda river and with the possibility to visit the many historic towns along the route.

ADVENTURE PARKS AND MUCH MORE
In Valtellina you can fly with Fly Emotion between two mountain slopes, from Albaredo per San Marco to Bema (near Morbegno) hanging by a rope while enjoying spectacular views and having a lot of fun. Furthermore, have a lot fun at the Larix Park of Livigno, a beautiful adventure park recommended both for adults and children. Finally, feel the emotion to cross the Ponte nel Cielo, a a 140-metre high and 234-metre long Tibetan bridge.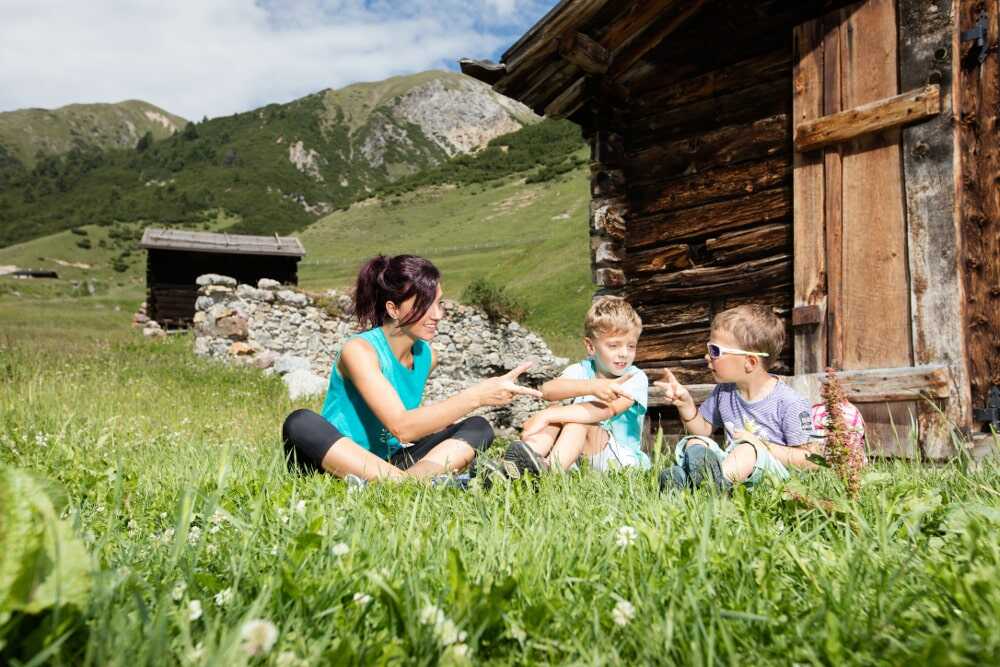 WINTER HOLIDAYS WITH CHILDREN
SKIING
In Valtellina you can enjoy more than 400 km of ski slopes with many baby parks, family parks and slopes perfect for all the levels, even for kids. The Cima Piazzi Happy Mountain ski area, in Valdidentro, proposes the Family Bob, the only bob on rail in Lombardy.

DOG SLEDDING
In Valdidentro, between Bormio and Livigno, the families can experience the exhilaration of dog sledding with a team of huskies.

ICE SKATING
The main towns of Valtellina host both indoor and outdoor ice rinks where families can spend some hours of pure fun: a plus experience not to be missed in Valtellina!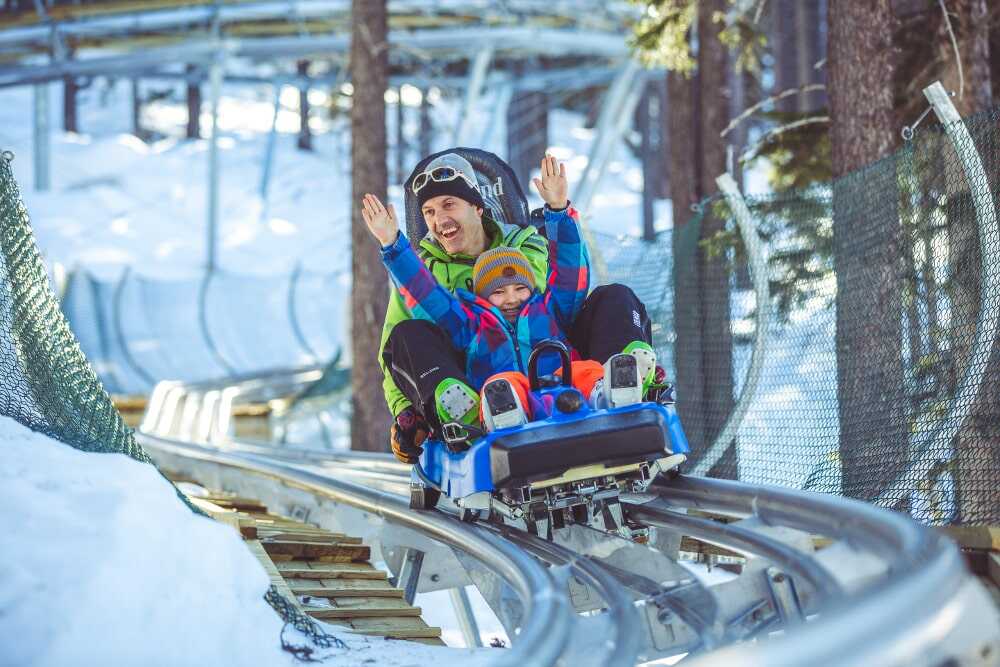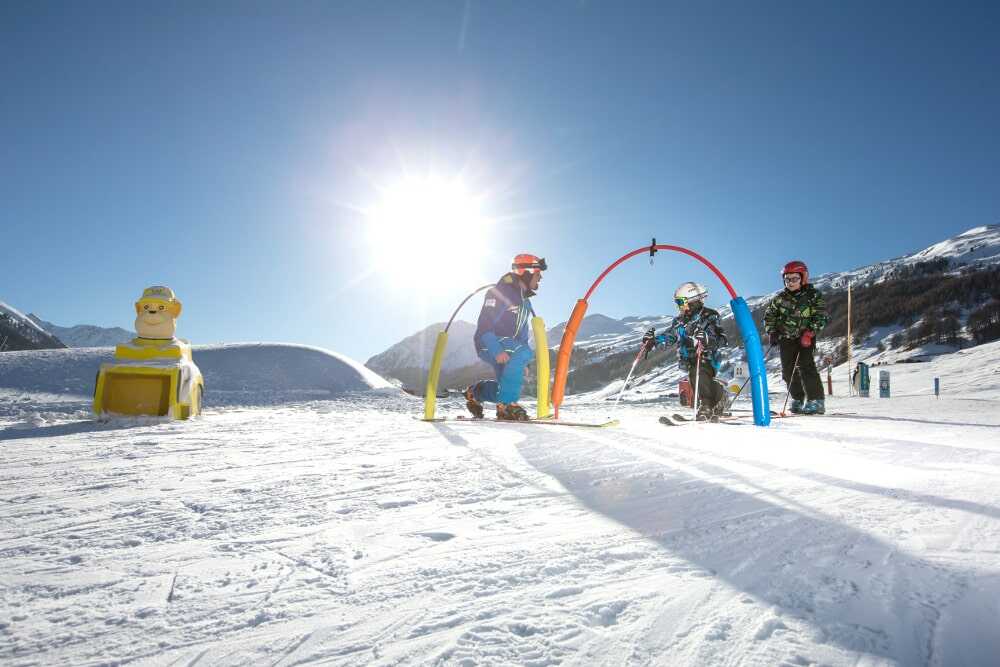 CULTURAL ACTIVITIES FOR FAMILIES
Nature, outdoor activities and much more: in Valtellina, families can also experience many interesting cultural activities.

In addition of the wide range of museums that open the door onto the past of this region bursting with history, art and local traditions, do not miss the Rock Engraving Park in Grosio, the most important example of the presence of prehistoric populations in the Valtellina. Outstanding is the Rupe Magna, a large rock that contains more than 5.000 engraved figures from the 4th to the 1st millennium B.C. Take part at the guided tour and live a journey through rock art, archeology, medieval castles and nature!

Experience an incredible jorney from Tirano to St. Moritz aboard the famous Bernina Express line, part of the UNESCO World Heritage List. Many promotions and special offers for families are expected.

Castles are finally a very good idea to discover the history and the tradition of Valtellina, each with its own history and mysteries. Visit castles immersed in vineyards or towers with wonderful panoramic views!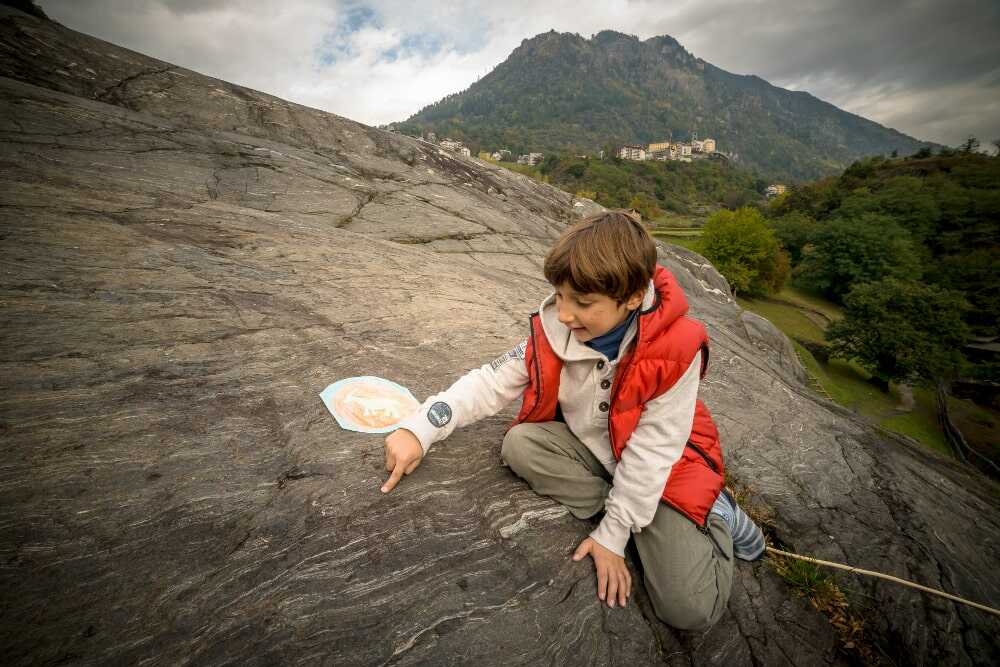 FUN IN THE WATER AT THE BORMIO TERME SPA AND AT THE AQUAGRANDA OF LIVIGNO
Valtellina is home to numerous spas and wellness centres which offer both relaxation for adults and fun for kids. Bormio Terme is a modern spa establishment offers a luxurious blend of relaxation, wellness and fitness facilities and it is also family friendly, with water features, slides and thermal pools for the little ones. The Slide & Fun area of Aquagranda Active You, in Livigno, is perfect for families with children where fun is guaranteed through water slides, Jacuzzi and water jets.